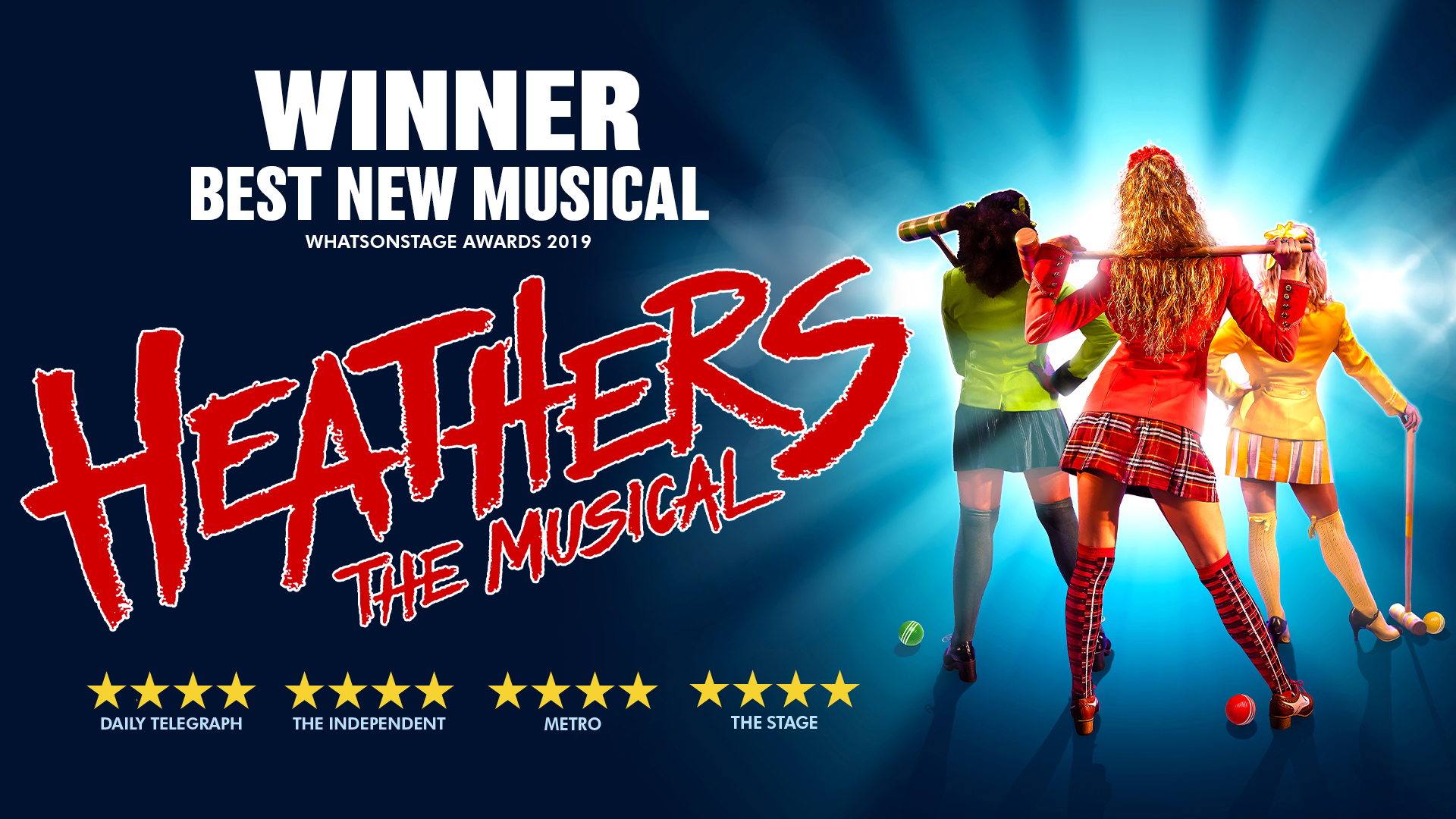 ★★★★★
September 1st, 1989. This is exactly where Heathers: The Musical opens; a musical phenomenon adapted by Kevin Murphy & Laurence O'Keefe that's heavily inspired by the iconic 1988 motion picture starring Winona Ryder and Christian Slater; that follows the coming-of-age story of teenage misfits Veronica Sawyer and Jason 'JD' Dean, with Veronica being sucked into the meanest highschool clique at Westerberg High–the Heathers. Despite being full of expected teen drama, the narrative does end up touching rather dark topics and some very heavy subject matters–but the way this is portrayed on stage by the collective cast and crew truly makes this a sight to behold. 
Directed by Andy Fickman; this adaptation is full of classic homages to the film, making plentiful callbacks to the original cult classic whilst also presenting something new for the stage that doesn't adjust any of the required storyline, allowing a whole new generation to fall in love with the Heathers; whilst providing a sense of 80's nostalgia for fans of the original. 
The titular Heathers consist of three girls, led by Queen Bee Heather Chandler (Verity Thompson), alongside Heather Duke (Elise Zavou) and Heather McNamara (Billie Bowman), who enlist Veronica (Jenna Innes) to join their group as she's craving a sense of belonging in high school; wanting to be noticed. The way the entire cast comes together within this musical allows for equal appreciation of every member of the cast and crew, with absolutely everyone giving it 100%, resulting in smiles across the audience's faces throughout the entire performance. 
Fronting the cast as Veronica Sawyer, Jenna Innes is truly phenomenal. From the second she steps onto the stage in the opening number of Beautiful, this musical number itself describes her performance throughout. Innes remains compelling to watch throughout, from the true joy she brings from the very beginning–providing powerhouse vocals throughout. Whether in solo numbers or alongside The Heathers, she's able to find her voice and stand up for what she believes in, bringing an energetic sweetness and natural charisma that makes her a standout performer. 
When you pair this with the performance from Jacob Fowler, her deeply troubled, sadistic boyfriend JD, the result is excellent. Fowler is undoubtedly a natural performer, bringing a tremendous performance that truly allows you to become immersed into the mind of his psychological traumas as an antagonist who's madly in love with Veronica. Together, this duo provided the strongest vocals of the night, truly being given time to shine as a duo in musical numbers such as Dead Girl Walking and Seventeen. As JD's motives come to light–killing off their classmates in a series of murders posed as suicides, whilst you can't agree with his methods, Fowler's performance, especially through the utilsation of facial expressions and vocals allows you to understand where his psychopathic intentions stem from; with Veronica being dragged into this toxic catalyst's plans. 
Other standout performers include Verity Thompson as Heather Chandler, who's a presence to be reckoned with throughout the entire production. Leading the Heathers; her vocals were exceptional, and her status on the popularity ladder is felt throughout her rule of Westerberg High, a truly admirable performance. Alongside Thompson, Alex Woodward and Morgan Jackson bring comedic relief as jocks, Kurt Kelly and Ram Sweeney who made the audience raucously laugh on many occasions. The entire ensemble comes together charmingly, especially within musical numbers such as My Dead Gay Son and Shine A Light, bringing joy to otherwise dark circumstances. 
Set design from Capital Scenery works in favour of providing an authentic high school, with the majority of the production being set in Westerberg High. With the main point of focus being a set of bleachers, adorned with the school mascot, emphasising an overall theme of school pride and this being the primary focus of the characters' lives. Despite most of the musical focusing around the school, the set proved itself to be highly versatile, making use of several locations such as Heather Chandler's, Veronica's and JD's houses; as well as outdoor locations such as a cemetery and even a 7-Eleven; thus engrossing me into the production at all times with these seamless transitions. 
I also really appreciated the use of a two-storey set design, with a balcony being implemented above the main stage. This was used incredibly effectively by the Heathers to give them a sense of authority and being untouchable by the other students–as they are admired by the entirety of Westerberg High. With the addition of this layer, it allowed this trio (with the later addition of Veronica) to look down on the students, as they rule with an iron fist. 
Limited props were used in collaboration with costume from Johnny Palmer and design from David Shields, but those that were used were executed perfectly to pay direct homage to the 1988 original, such as croquet mallets and 3D glasses–perfect pieces of iconography that were instantly recognisable to fans of the original; with all three Heathers alongside Veronica carrying through their colours to carry on the legacy of Heathers. 
Accompanied by lighting design from Ben Cracknell truly helped set the scene, and in places was truly mind-blowing. One scene in particular that a truly beautiful visual style was presented through Cracknell's work was within Candy Store, arguably the most quintessential and well-known song from the Heathers; using an incredibly inventive technique within which each of the trio were illuminated within their respective colours, with the utilisation of red, green and yellow spotlights–an effect that received lively applause from the audience. Lighting design was also used outstandingly within the aptly named Shine A Light, which utilised an array of effects including spotlights, torchlight and warmly lit schoolbook lamps that allowed the auditorium to be illuminated, overall resulting in a true feat of brilliance from both Capital Scenery and Cracknell.
Gary Lloyd's choreography was also impeccable throughout, being used most effectively within Fight For Me, where Veronica first crosses paths with JD and he's fighting Kurt and Ram within the corridors of the school. Whilst you may expect this to be a high-volume fight scene, this is a scene that takes place from Veronica's perspective as a narrative storyteller, whilst everyone else performs in slow-motion. It's a highly comedic and jovial scene, with punches being made in an innovative way that leaves a smile on your face–with scenes like this being told only by Veronica, we're able to see her true emotions as she's able to take a step away from the carnage surrounding her and we witness her inner monologue. 
Whether, like me, you're a fan of the original, or whether you're completely new to the narrative, Heathers is a truly beautiful piece of musical theatre that's not to be missed whilst on its run at Theatre Royal Plymouth. Through the collaboration of a stunning cast and collective ensemble, a fantastic light, set and costume design and brilliantly unique and original songs from Kevin Murphy and Laurence O'Keefe, you'll find yourself forever fascinated by the aspects of dark comedy and compelled by the intertwined tragic narrative of these highschool teens. Despite the story being dark in places, you'll find yourself leaving the theatre thinking how very beautiful this musical adaptation is. 
Heathers is running at Theatre Royal Plymouth until Saturday 8th April 2023 as part of its UK & Ireland tour and will be running at select venues until October 2023.